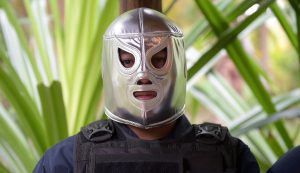 05.09.2019 – 05.10.2019
Merdiven Art Space welcomes the new season with two different exhibitions simultaneously opening its doors. Hosting Ahmet Öğüt's solo show in the gallery space, Merdiven introduces an ostentatious group show titled "Winter is Coming" to the audience at the #mebusan25, the nearby independent building. The exhibitions, included among the parallel events of the 16th Istanbul Biennial, bring together the pioneering artists of Turkey's contemporary art scene and bring dynamism to the route between Fındıklı and Karaköy.
"THE MISSING T" by Ahmet Öğüt
The exhibition titled "The Missing T", which is also the title of the work by the conceptual artist Ahmet Öğüt, who consolidates his presence as days past in the international platform is introduced to the audience from September 5 to October 5 at Merdiven Art Space. Öğüt conceived a piece from his multi-directional practice ranging from video to photography, drawing to printed media, especially for Merdiven Art Space. The exhibition, consisting of a site-specific installation, focuses on socio-political phenomenons revealed when the glowing image of a famous vacation destination in minds is scratched. The artist deals with Tulum, a city in Caribbeans; renowned with its turquoise sea and white beach, from a different perspective inspired by the obsidian stone of the Mayans.
The work suggesting to look nearby for the cities from different continents, sharing the same destiny and having a polished image makes the audience think about the realities behind the ornated mask. The video revealing difficulties experienced by Mexican officers protesting in order to demand personal security and their basic rights, as a result of contradicting with the administration collaborating with illegal organizations in Mexico, describes the confusion regarding the questions of who are the victims and who has the authority, by means of the interviews made with people. The neglect and abuse against the local people in the city, promoted as the ideal vacation destination with its sea, beaches and sun, by the tourists, is brought into the gallery space by means of extraordinary methods with his installation transforming the gallery space into a "so-called" beach, thanks to his authentically symbolic and satyrical style.
Merdiven Art Space: Meclis-i Mebusan Cad. No: 31 Murat Han Kat: 1 Fındıklı, Beyoğlu
"WINTER IS COMING" – A Pop-up Project by Merdiven Art Space
Halil Altındere | Şener Yılmaz Aslan | Osman Bozkurt  | Fulya Çetin | Mehmet Dere | Erdal Duman | Leyla Emadi | Fırat Engin | Didem Erbaş | Berat Işık | Ferhat Özgür | Kerim Zapsu
#mebusan25: Meclis-i Mebusan Cad. No: 25 Fındıklı, Beyoğlu