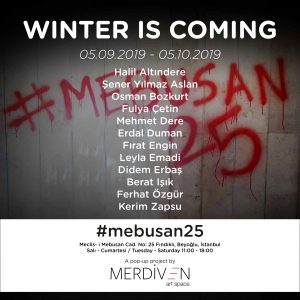 05.09.2019 – 05.10.2019
Merdiven Art Space welcomes the new season with two different exhibitions simultaneously opening its doors. Hosting Ahmet Öğüt's solo show in the gallery space, Merdiven introduces an ostentatious group show titled "Winter is Coming" to the audience at the #mebusan25, the nearby independent building. The exhibitions, included among the parallel events of the 16th Istanbul Biennial, bring together the pioneering artists of Turkey's contemporary art scene and bring dynamism to the route between Fındıklı and Karaköy.
"WINTER IS COMING" – A Pop-up Project by Merdiven Art Space
Halil Altındere | Şener Yılmaz Aslan | Osman Bozkurt  | Fulya Çetin | Mehmet Dere | Erdal Duman | Leyla Emadi | Fırat Engin | Didem Erbaş | Berat Işık | Ferhat Özgür | Kerim Zapsu
"Winter is Coming," a pop-up exhibition project conceived by Merdiven Art Space, is realized in a derelict building transformed with a perspective alternative to the spaces which are hard to rent and use. Located in Meclisi Mebusan Street, No 25, #mebusan25 which is to be demolished in the context of urban transformation, embraces the artists with its post-modernist identity carrying the traces of near past in all senses from architecture to bureaucracy.
The artists inspired by the fact that how the quote "Winter is Coming", which has become one of the most iconic mottos of popular culture, has gained a different context when used by a politician, deal with the concepts such as authority, decadence, control addiction and loss of control. The works focusing on the symbols of power, buoyed by the abandoned and tumble-down atmosphere of the space, offer an inventory of national memory from past to today. Each artist, who makes the reversing, failing, toppling, smashed and upside-down phenomenons the subject of their works in their unique styles discuss the parallels and contradictions between social and individual expectations.
Both exhibitions bringing together the successful contemporary artists whose artistic practices never lack criticism with the audience under the non-profit structure of Merdiven Art Space can be visited between Tuesday and Saturday, from 11 am to 6 pm.
#mebusan25: Meclis-i Mebusan Cad. No: 25 Fındıklı, Beyoğlu
Merdiven Art Space: Meclis-i Mebusan Cad. No: 31 Murat Han Kat: 1 Fındıklı, Beyoğlu