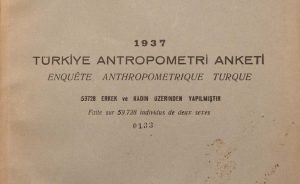 Performance: 10.03.2020 – 03.04.2020
Exhibition: 04.04.2020 – 25.04.2020
Book Launch & Artist Talk: 24.04.2020
Merdiven Art Space hosts TUNCA's recent performance/exhibition project titled "64.000." There performance where the gallery walls are used as the main element of the exhibition and and which is both open to visit and broadcasted live on Instagram four days of the week, will finally evolve into a site-specific installation at the end of three and a half weeks. TUNCA, with his project of which intellectual background he created long time ago, starts a new discussion regarding the close relationship between individuals, representation, life and death.
The first version of Anthropometry Survey of Turkey, which was carried out as a doctorate thesis by Afet inan in 1937, Turkey, was published in a book form at the same year as the 151st publication of the General Directorate. These two editions of the book, which the artist acquired thanks to his special interest in ephemera, constitute the foundation of this project. Carried out by a specially trained team in the country divided into ten regions, the survey includes the statistical recordings such as skull sizes, nose sizes, eye colors, heights and weights of 64.000 people. That the devices used to take measurements according to the provinces, regions, gender, and age group, were specially bought from Germany, keeps giving hints about the importance of the study for the period. TUNCA will transfer the tables containing statistical data of 200 pages to the gallery walls as a result of the performance that will take days. Whereas he refers to the fact that charcoal, which has an important place in his practice, is simply a piece of carbon, remnant; he also turns the process of writing into a living documentary.
The artist who discusses the methods and tendencies providing a basis for the nationalist ideology in this geography with his exhibition/performance titled "64.000", also reveals the traces of the effort made through physical-anthropological perception of the period. TUNCA, deconstructing a social scientific both in a formal and an intellectual way, leaves analyzing the subject under the light of historical memory, to the spectators. The project which feature the survey data and will be open to visit in form of an exhibition, will be completed with a launching presenting a replica version of the book dated 1937 and an interview.
The performance/exhibition titled "64.000" is on view from March to April 25, Tuesday to Saturday.