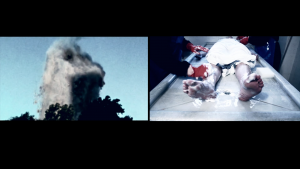 FERHAT ÖZGÜR – KIVANÇ GÖKMEN – MUSTAFA KULA

21.09.2018 – 27.10.2018
Merdiven Art Space welcomes the new season with a site-specific installation aiming to examine three generations of student-professor solidarity. The exhibition bringing together the works resulting from Ferhat Özgür's collaboration with Kıvanç Gökmen and Mustafa Kula, who were his students at different time periods, emerges from Ferhat Özgür's video work titled Resurrection. The exhibition, specially conceived for Merdiven Art Space, deals with the conflicts and concurrences in the collective production process of the artists representing three different generations and disciplines. RESURRECTION: An Attempted Siege By Three Generations, which will be on view between September 21 and October 27, witnesses how the artists blockade the space through three different approaches:  Ironic, Tragic, and Dramatic.
Ferhat Özgür visualizes the concepts of death and annihilation through a gothic ritual in his diptych video titled Resurrection, which would be exhibited for the first time in Turkey, while Kıvanç Gökmen materializes the relationship between the student and professor ironically with art historical references. The photo accompanying the video that features Magnificat by Bach is inspired by the periods when two iconic artists such as Warhol and Basquiat, who got rid of their artist identities and put up an artistic struggle. With his site-specific work, where he transferred the innovative drawing perception into the wall, Mustafa Kula, on the other hand, visually enriches the concept of resurrection, where the concepts highlighted by the video and photo, such as transience, eternity, resistance, eternal, and perpetual evolve into each other through a dynamic mural. The artists, who are both the subjects and the creators of the works in the exhibition, reveal the importance of developing a common discourse regarding the benefit of production by using different mediums. The collaboration emerging from the transformation of the struggle between the professor and student is highlighted by the dialogues between the opposite concepts and the images.
Ferhat Özgür, who adopts a deep conceptuality in his video works, develops an intergenerational and interdisciplinary project together with Mustafa Kula on one hand, who recalls the power of painting with her drawing-oriented artistic practice, and Kıvanç Gökmen on the other hand, who reflects the excitement of experimentality with his work basing on references.