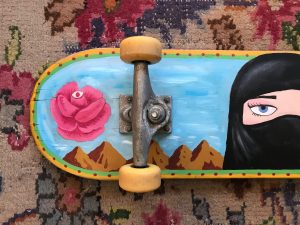 12.01.2018 – 24.02.2018
Merdiven Art Space is proud to announce the artist duo, ORTADOĞU's very first solo exhibition in İstanbul, as a part of its embracing programme. The show titled "Middle East Dreamin'" which has been designed as a site-specific installation, meets the viewers between the dates of January 12-February 24, 2018. Through their works being shaped from autobiographic narratives, the duo producing in a wide range of disciplines such as painting, sculpture, video, installation, comics, textile; merge their approach that highly inspired from irony and symbolism with a surrealistic fiction.
In accordance with their multi-disciplinary formation, improving their artistic practice on a flexible ground, ORTADOĞU continues to work in İzmir.  After their previous show named "Arabesque Fantasia" which was held at K2 Contemporary Art Center last year, the duo takes their freshest works' inspiration from a 'neverland' which has crashed into the harsh side of the chaos and gone back to square one. In this exhibition, ORTADOĞU as the youth of a society which try to be adapted to Post-Modernism as far as the geographical and socio-cultural circumstances allow; verbalizes the mental and emotional dilemmas being derived from 'The Age of Knowledge' that we are in. "Middle East Dreamin'" describes the surreal living room of a messiah/mahdi coming from the New World, as a simulated garden of eden. Crossing the borders of Kitsch through the familiar objects and expressions about the Middle East geography, ORTADOĞU reveals the most exaggerated form of the cultural imperialism by picturing the portrait of this fictional leader.
"Middle East Dreamin'" invites the viewer to explore the sides of his own visual and audial tastes tending to deform by a trip towards the inner world of this persona who mirrors the degenerated world/social order. Presenting the awry synthesis that has arised in the process of enforced orientation of old and new/East and West via future simulation, ORTADOĞU calls out to the artlovers with their own poetic manner:
"Help yourself into our burned and razed kingdom made from the "ash" in the midst of the frozen century's disgraceful sins! You may check in here and there.
While the pointed teeth of your disbelief and the envious eyes of your lovelessness have been shredding the entire senses and the plain but vital things; you have pleased yourself. When the agony of the luscious freedom surrounded your flesh from top to toe, it has started to vellicate thru the hemlock poisoning. So whenever you have not endured the pain of your burning skin then only then you have cursed, you have torn your hair out; yet no avail.
The time has come, guys; time for awaking…
Here rises the Age of the Moral Renaissance!"